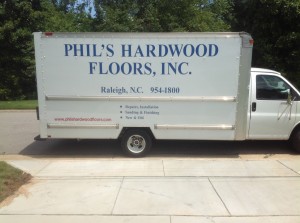 Phil's Hardwood Floors is a full service hardwood flooring company in North Raleigh, NC. Phil started his career 35 years ago and continues to have a passion for working with beautiful hardwood floors.  He started the first 11 years of his career working side by side with some of the best experts in the hardwood floor industry. At that point, Phil decided it was time to put his perfectionist personality to good use and start his own company. By doing this, he could really focus on his attention to detail ensuring the most beautiful floors possible.
Phil is a Raleigh native both born and raised. He has two daughers, Melissa and Heather, plus a beautiful cat, Mr. Simon. He started his company 3 days before his younger daughter, Melissa, was born. His dedication to starting his own business has driven him ever since and his business has continued to grow over the past 24 years. His current employees are just as dedicated and have worked with him between 10-16 years.
Phil's Hardwood Floors is fully insured and always provides free estimates. He believes his detailed craftsmanship, techniques, quality products, and personalized service is what sets his company apart from other companies in the area.
Take a look at our photo gallery to view some of our beautiful installations of hardwood floors.
Member Affiliations: